#Airconspecialoffer
Buy the air conditioner with us at lowest price with premium service. "FREE INSTALLATION & FREE SITE SURVEY"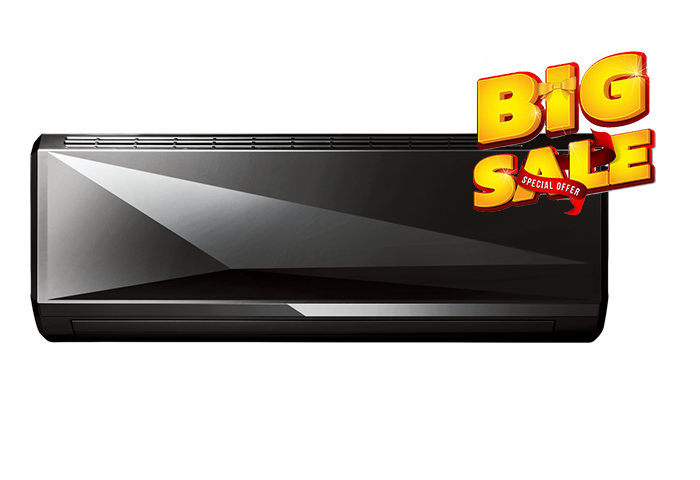 Aircool Aircon offers major air conditioner deals and promotions for most selling aircon brands such as Daikin, Mitsubishi, Midea, Panasonic, Hitachi, LG, Sharp.
Our aim is to provide quality air conditioners to people at a low cost. This is because more and more people are buying air conditioners without knowing the actual price. Our company Aircool Aircon has been providing affordable air conditioners to the people of Singapore for the last 10 years, as well as providing FREE INSTALLATION at the same price. The reason for our growth is the quality and immediate service of Ergon. Best aircon Singapore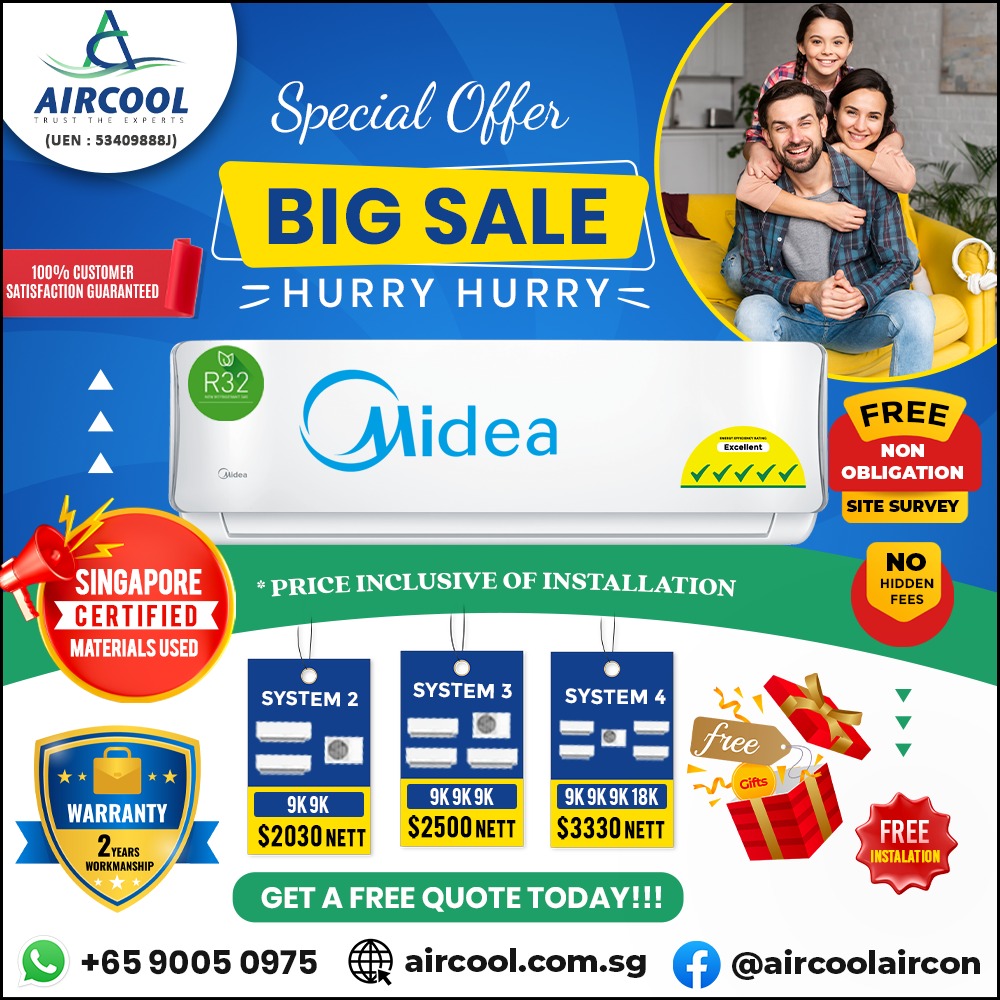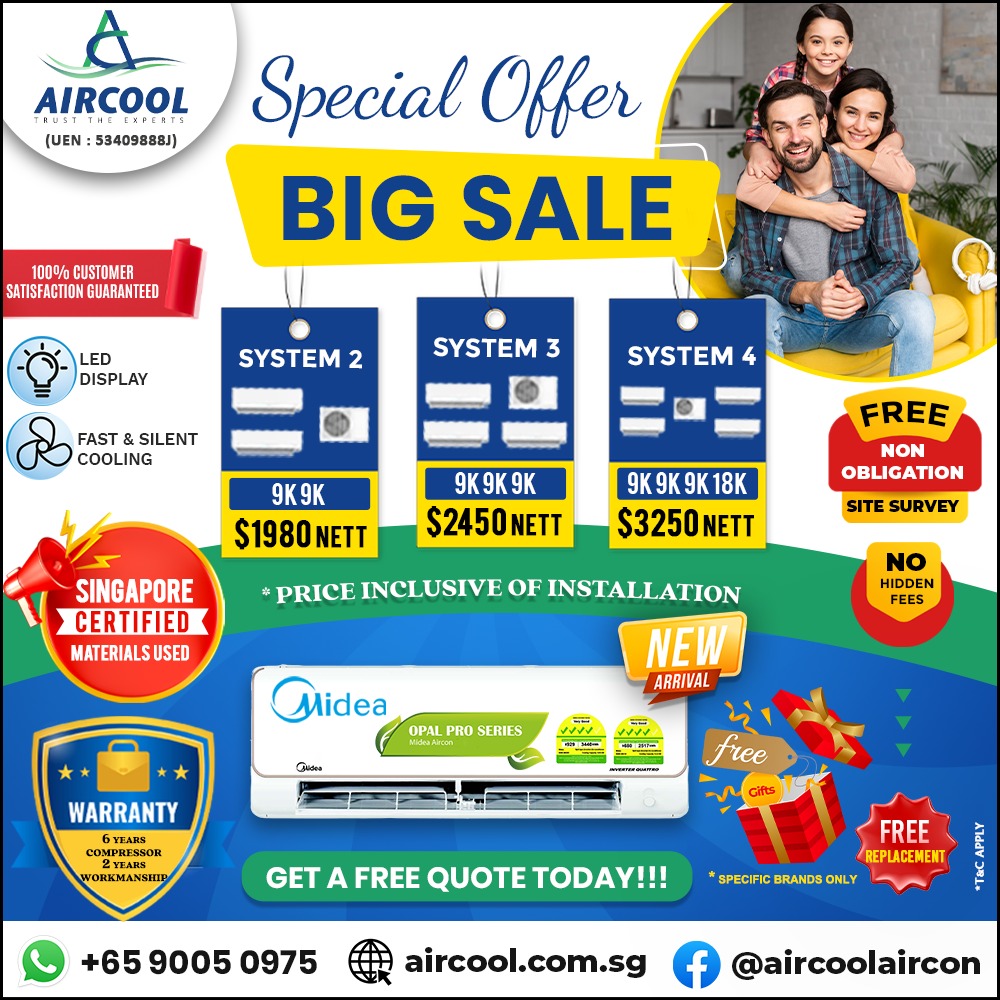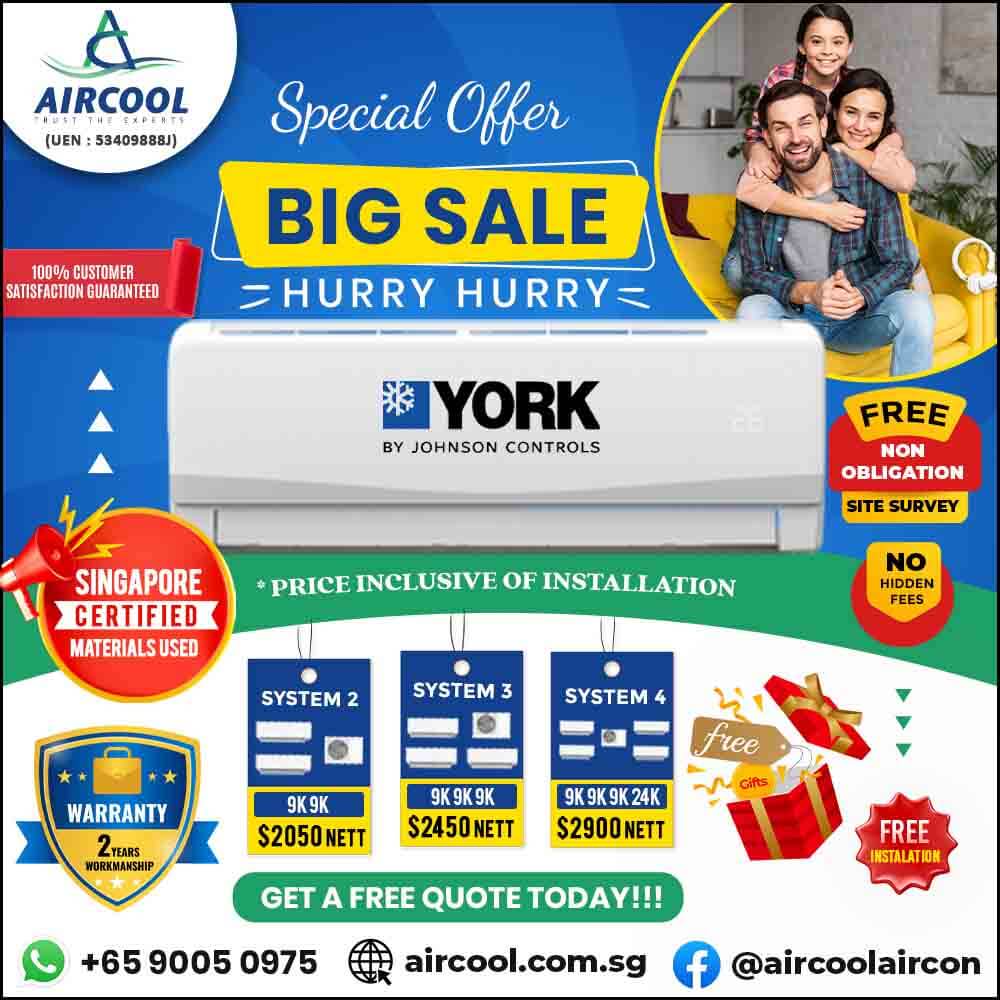 Aircon installation typically includes the following services:
Site Inspection: A qualified technician will visit your location to assess the space where the air conditioning system will be installed, check the electrical wiring, and make sure that the space is suitable for the air conditioning system.
Sizing and Selection: Based on the size of the room or space and your cooling requirements, the technician will recommend the right type and size of air conditioning system for your needs.
Installation of Indoor and Outdoor Units: The technician will install the indoor and outdoor units of the air conditioning system at the designated locations. They will also install the necessary electrical wiring and connections.
Refrigerant Piping: The technician will install the refrigerant piping between the indoor and outdoor units.
Vacuuming and Flushing: The technician will vacuum and flush the refrigerant piping to ensure that it is free of moisture and contaminants.
Testing and Commissioning: The technician will test the air conditioning system to ensure that it is working correctly and efficiently. They will also commission the system to ensure that it meets the manufacturer's specifications and performance standards.
Demonstration and User Manual: The technician will provide a demonstration on how to use the air conditioning system and provide a user manual for reference.
Warranty: The air conditioning system typically comes with a manufacturer's warranty, and the technician will provide you with the necessary warranty documentation.
It's important to choose a qualified and experienced aircon service provider for installation to ensure that the system is installed correctly and functions efficiently.
Very good! Repeated customer and good customer service
Will continue to use your service again and recommend it to friends and family. Keep up the great work! The aircon installation is properly done.
Booking and confirmation were quick and service was cleaned and maintained and the place was also left tidy. Will use their service again in the future. Highly recommended
First time try to engage Aircool for aircon servicing. The Technicians are very professional and helpful. Never hard sales any unnecessary service. Good service ! Value for money.
Thong Lap Chark
2022-04-21
Fast and prompt replies. Can make an appointment easily. I am impressed with your aircon service. highly recommended.
The servicemen who came for installation were really skilled and talented. They were able to fix all other issues as well. definitely engages with your company again.
Thanks for fixing my aircon leakage problem quickly, Technician Mani and team was very good
I booked chemical washing for 4 unit. The price is less and servicing quality is too good. Impressed. Professional team !!!!
OUR AIRCON SERVICING WORK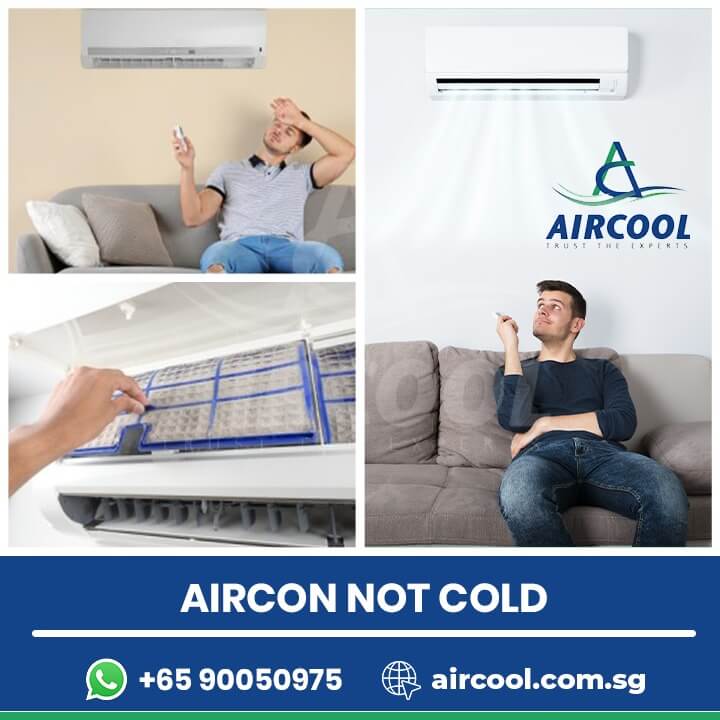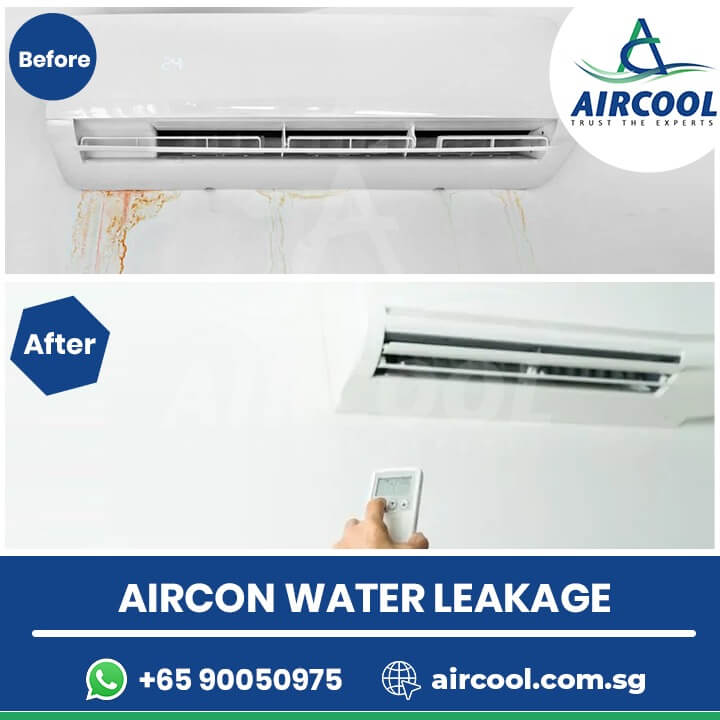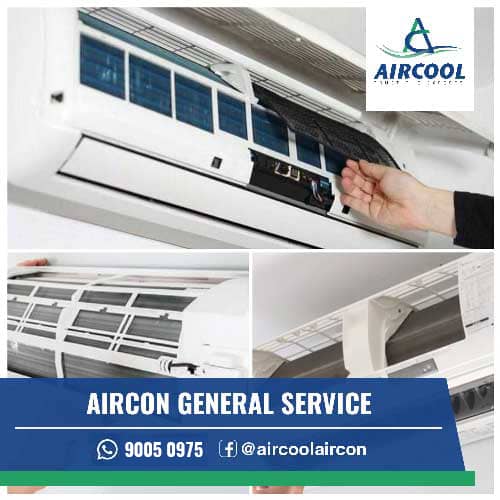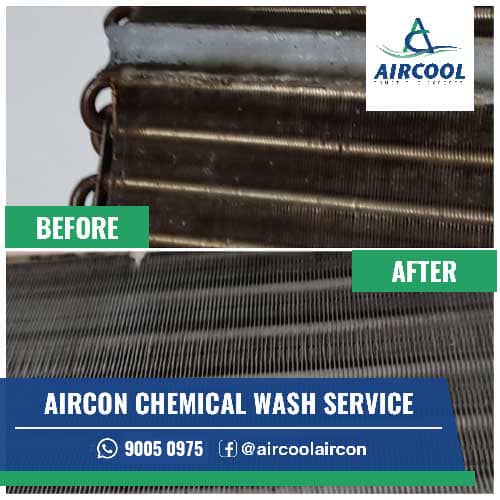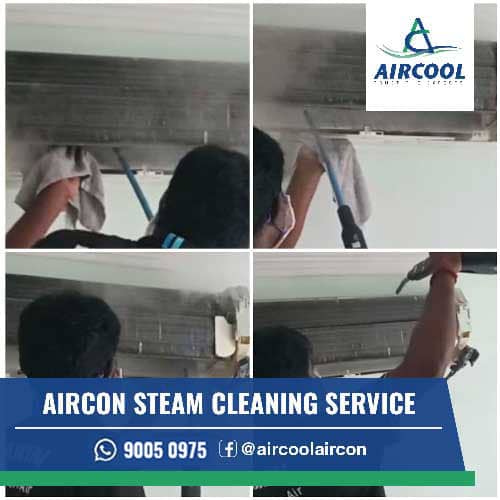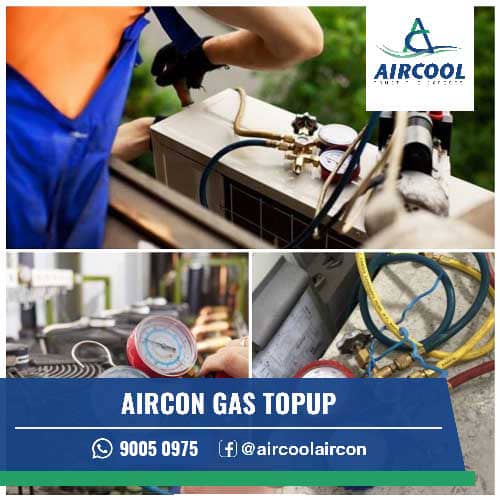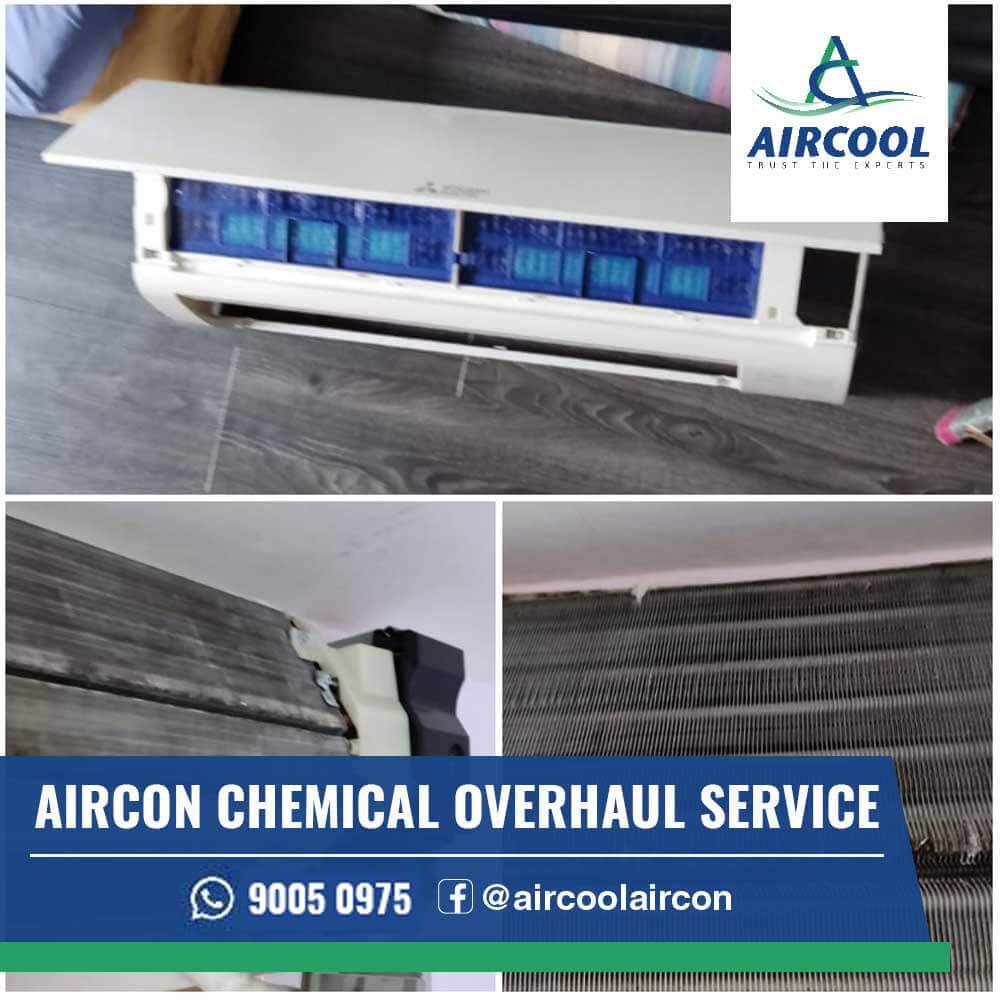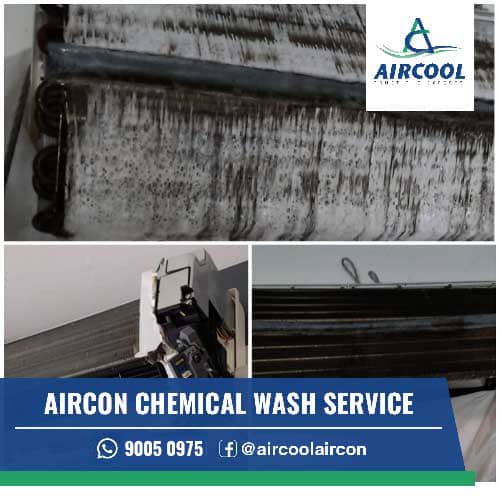 OUR RECENT AIRCON INSTALLATION WORK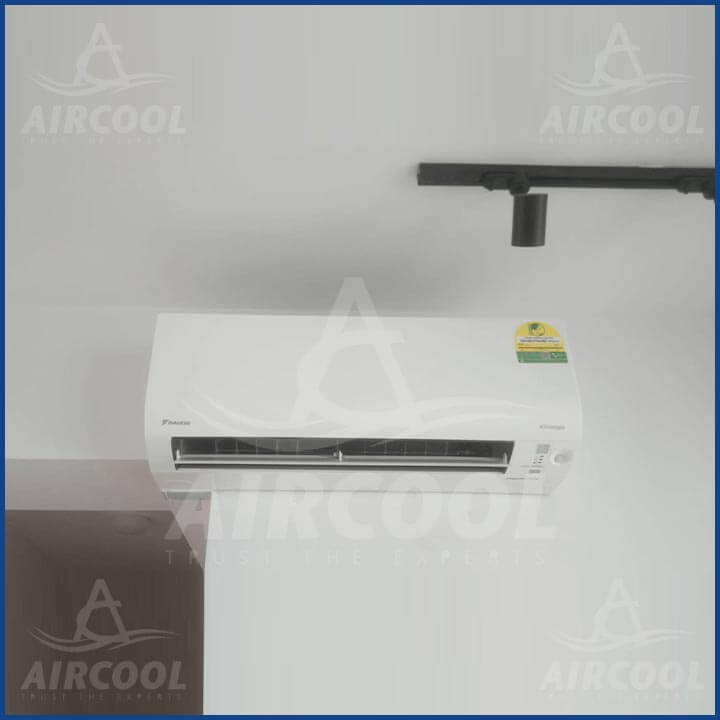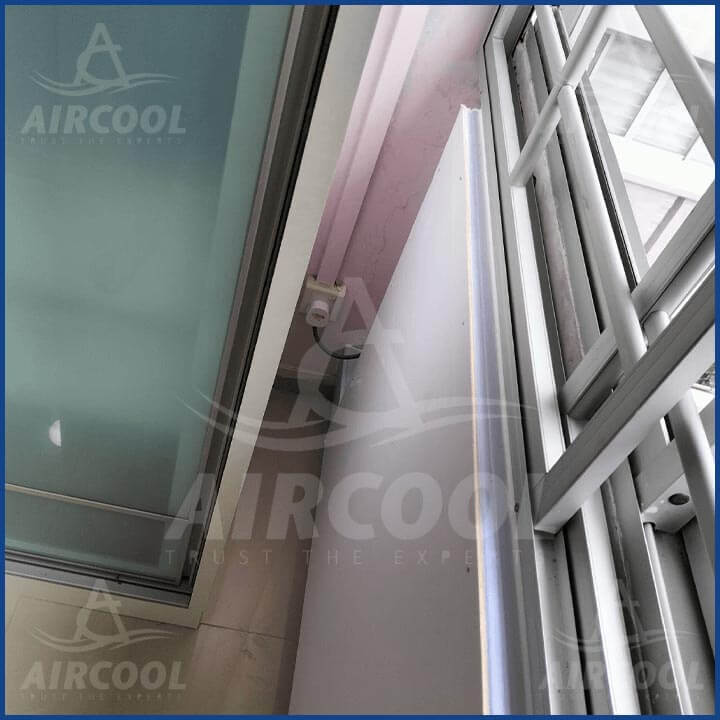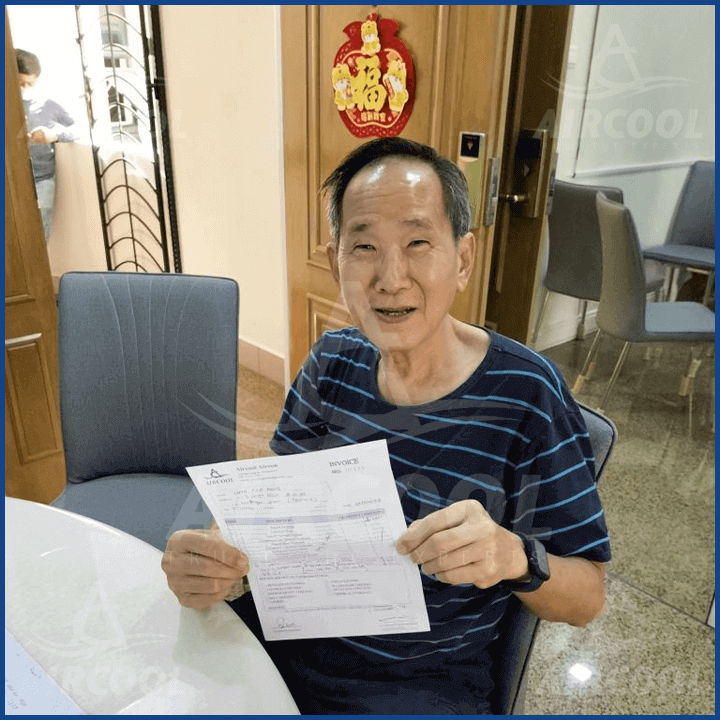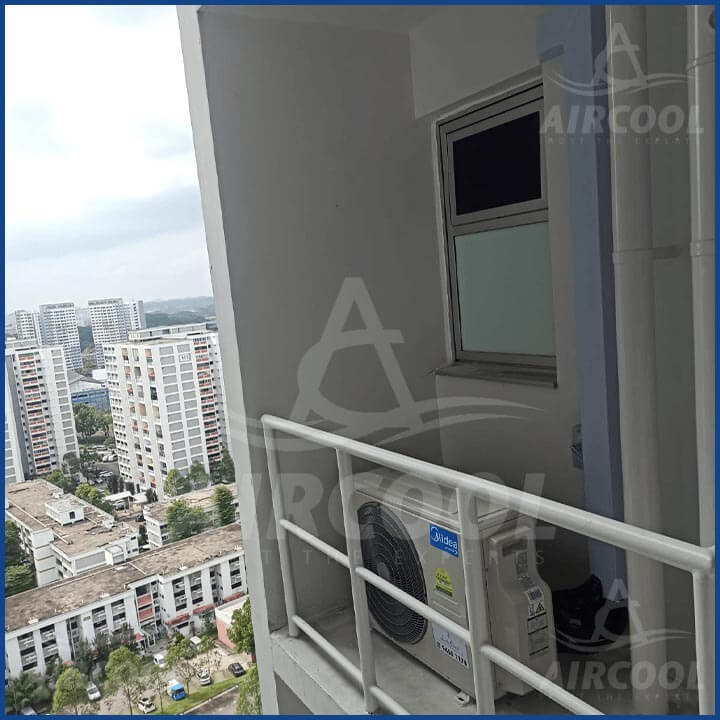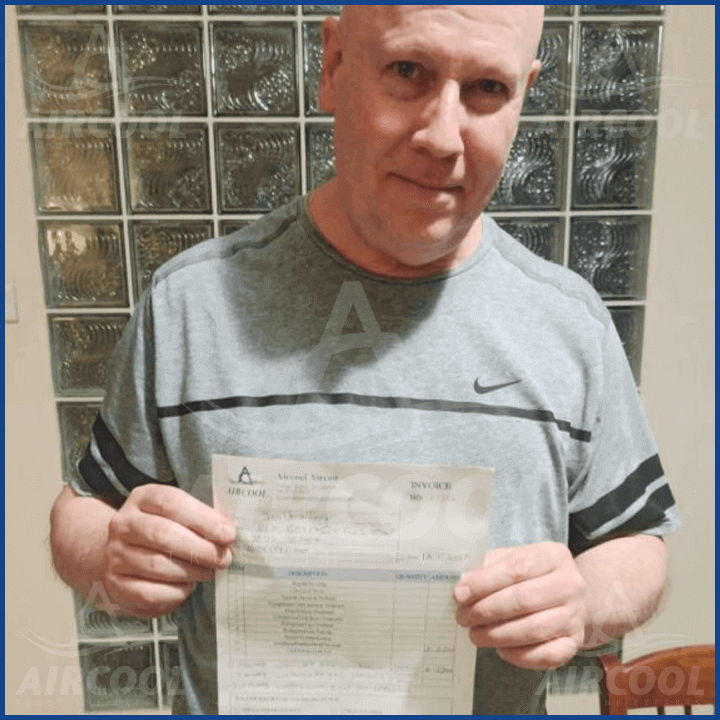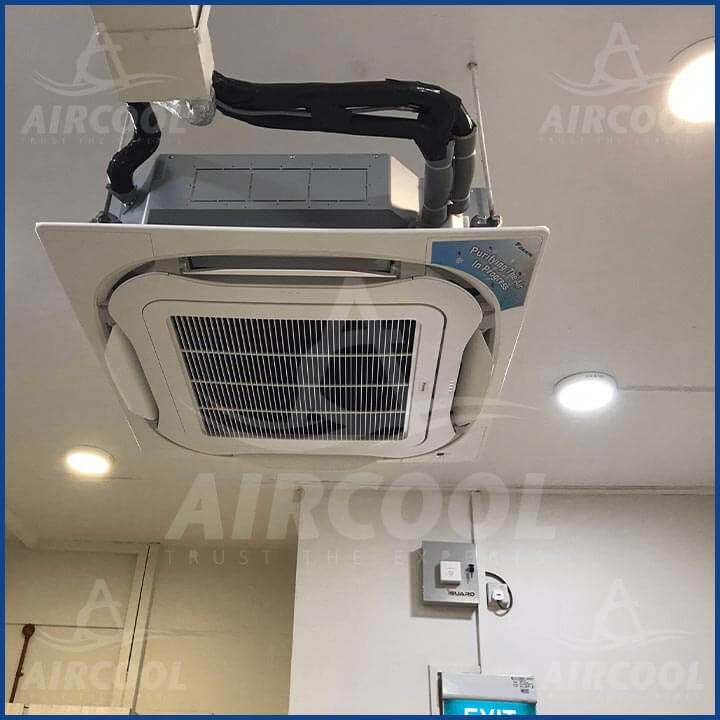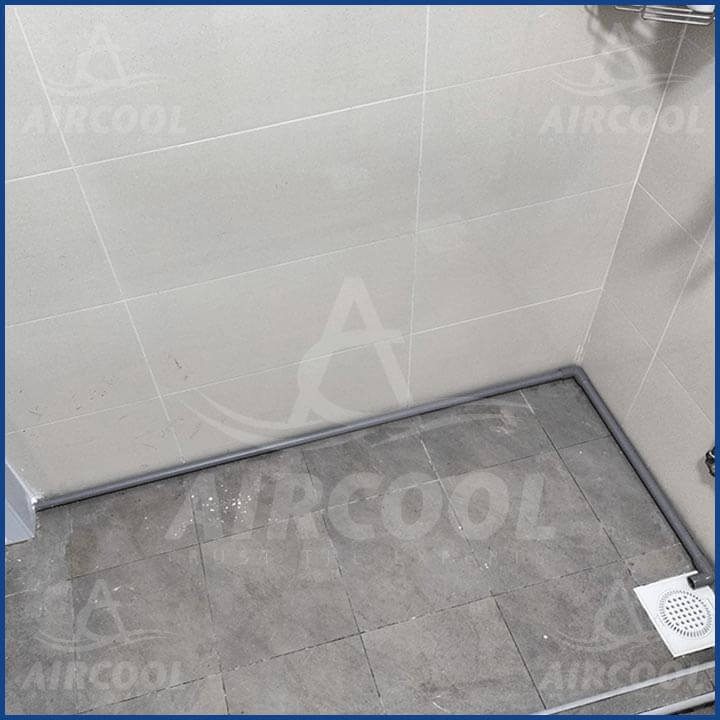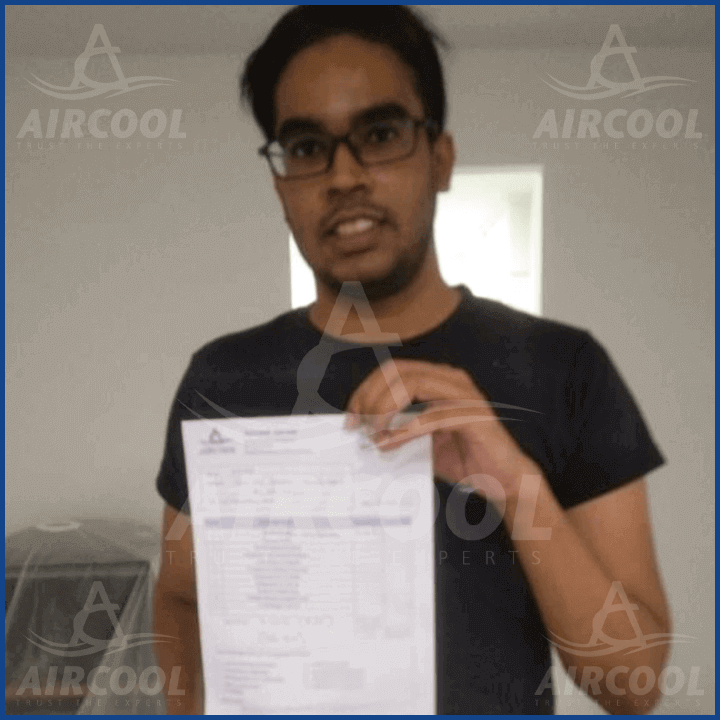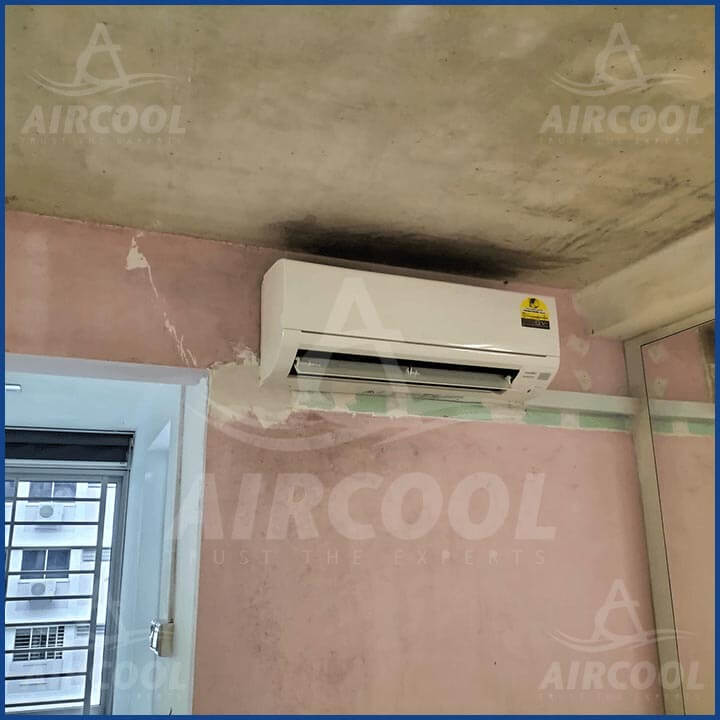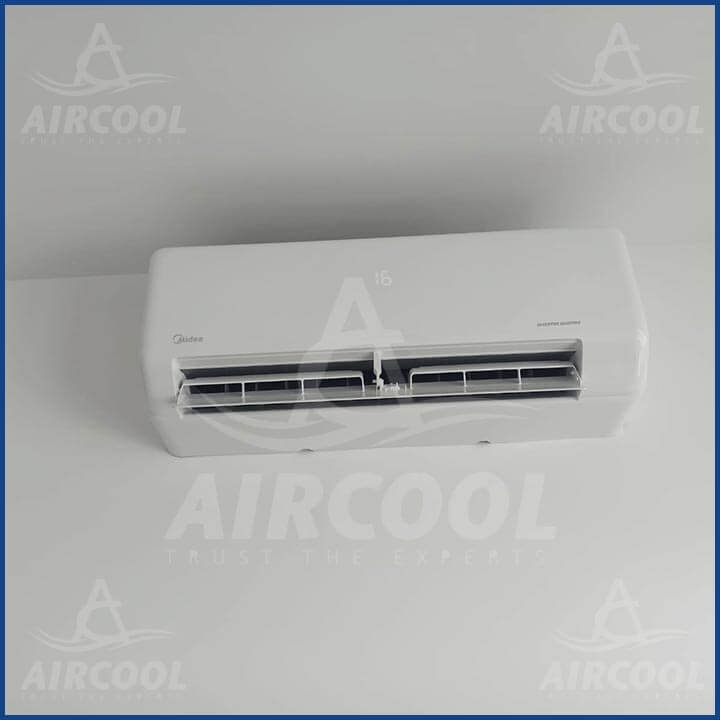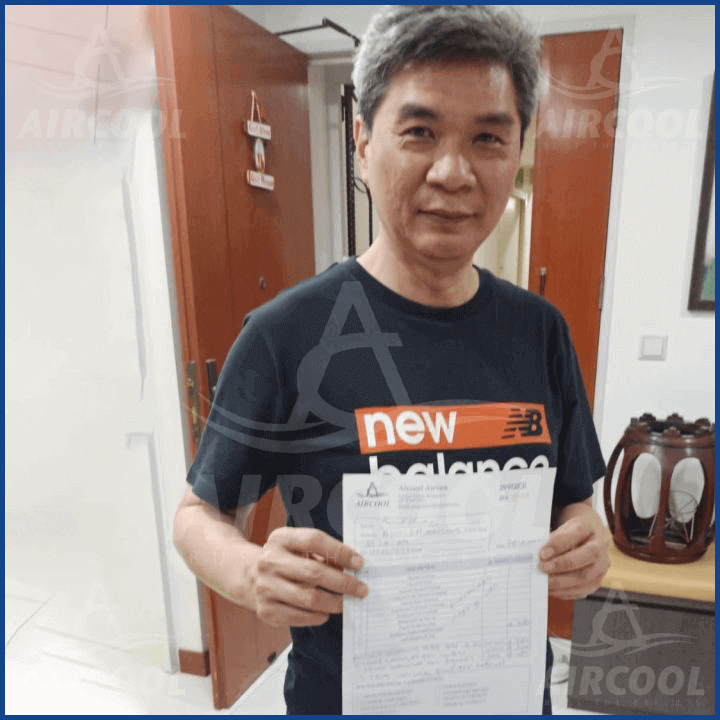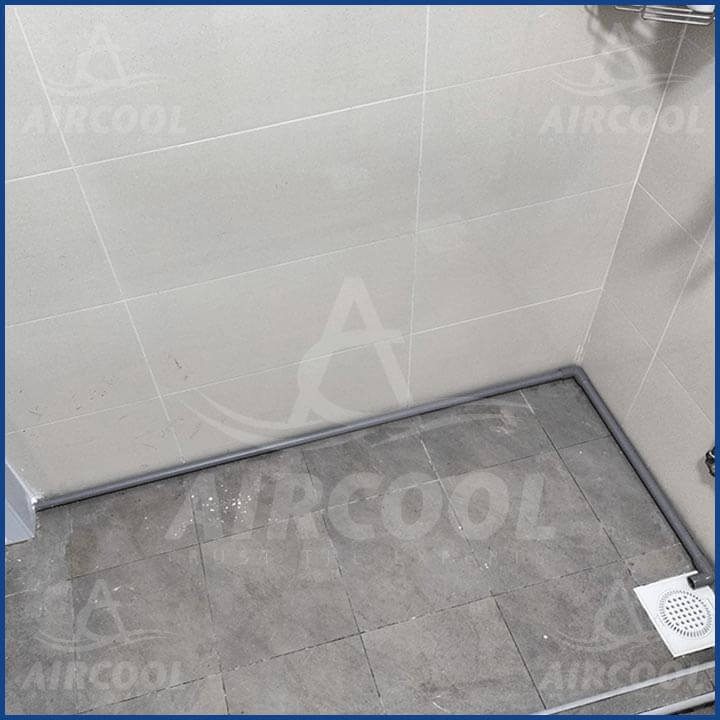 INSTALLATION MATERIAL (Singapore Certified Material Used)
We have talented and certified technicians. Our mission is to ensure that customers who purchase from us travel with us to the end with 100% complete satisfaction.
We use only quality materials to carry out aircon installation. This will not cause any defects in the installation and will help prevent any leaks and freon gas from leaking into the air conditioner for long periods of time. Below are the details of the spare parts we use for aircon installation in Singapore.
✔22g copper pipings
✔Keystone wire (local brand)
✔1/2 inch class 0 armaflex
✔16mm drainage pipe with insulation
✔SINGAPORE CERTIFIED TRUNKINGS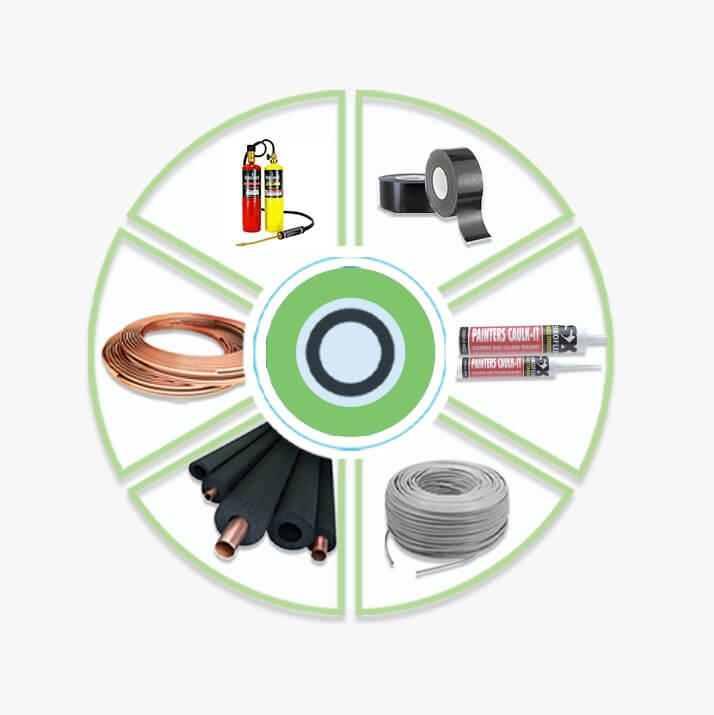 With a Free Site survey
Hello, we are offering a FREE Non-Obligated site survey for our customers. we have all major brands such as Daikin, Mitsubishi Electric, Panasonic, Midea, LG, Hitachi, York, and Sharp. we are using only standard materials at the aircon installation. We provide aircon installation for all kinds of residential HDB/ BTO Flat, Condo, Landed, and Commerical places too.