SHARP Aircon
We offer a top-notch premium aircon installation and aircon service for an affordable price for a home, Hdb flats, and commercial areas. we install both split air conditioners and centralized air conditioners.
Why choose the sharp aircon with an aircool?
Flexible  cost

Free site survey available

Quick appointment booking process

5 Years compressor warranty and 2 year fan coil warranty

2 Years workmanship warranty

Electricity bills can be easily saved

No Hidden cost

Aircool has 10+ years industry experience and we do aircon general service , chemical wash , Aircon Gas Top Up , Chemical overhual for sharp brands.
SHARP Aircon Installation
Aircool offers Sharp aircon at the split air conditioners and Centralized air conditioners. The split and Centralized are suitable for all residential and commercial. and we provide all types of models in all systems, so you can get your suitable aircon for your place with us by the guide of our experienced technicians.
SHARP Aircon Servicing
Aircool supports Sharp aircon for aircon servicing. We provide all types of aircon services like general service, chemical wash, steam cleaning, aircon repair, etc., and we solve all types of aircon issues like low cooling issues, Water leak, compressor repair, etc., Get all services with us at the best price and best workmanship warranty. 

Why to choose us for
AC installation & service
Types of aircon Installation
Popular installation methods in Singapore include ceiling cassette, ceiling suspended and wall mounted air conditioners.
Wall mounted air conditioner
Wall mounted air conditioners are the most common type of air conditioner installed in Singapore. It is suitable for homes with low ceilings and limited space, since it can be mounted on the walls. The unit is compact and has a sleek design, which makes it a popular choice among homeowners.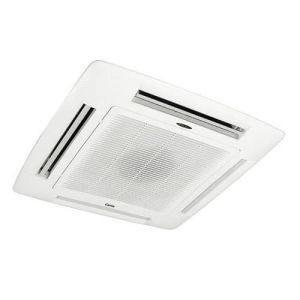 Ceiling cassette aircon
Ceiling cassette air conditioners are installed flush with the ceiling, making it a suitable option to replace an existing false ceiling. The unit comes with four-way airflow and can be controlled by a remote control, making it convenient for homeowners to adjust as desired.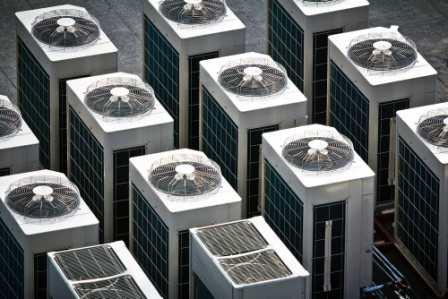 Centralized Aircon
Centralized air conditioning systems are designed for larger buildings such as office buildings, hotels and shopping malls. They can be found in areas where there is a high demand for cooling, In smaller applications, the cost of installing a central air system can be prohibitive.
SHARP Aircon price – Buy now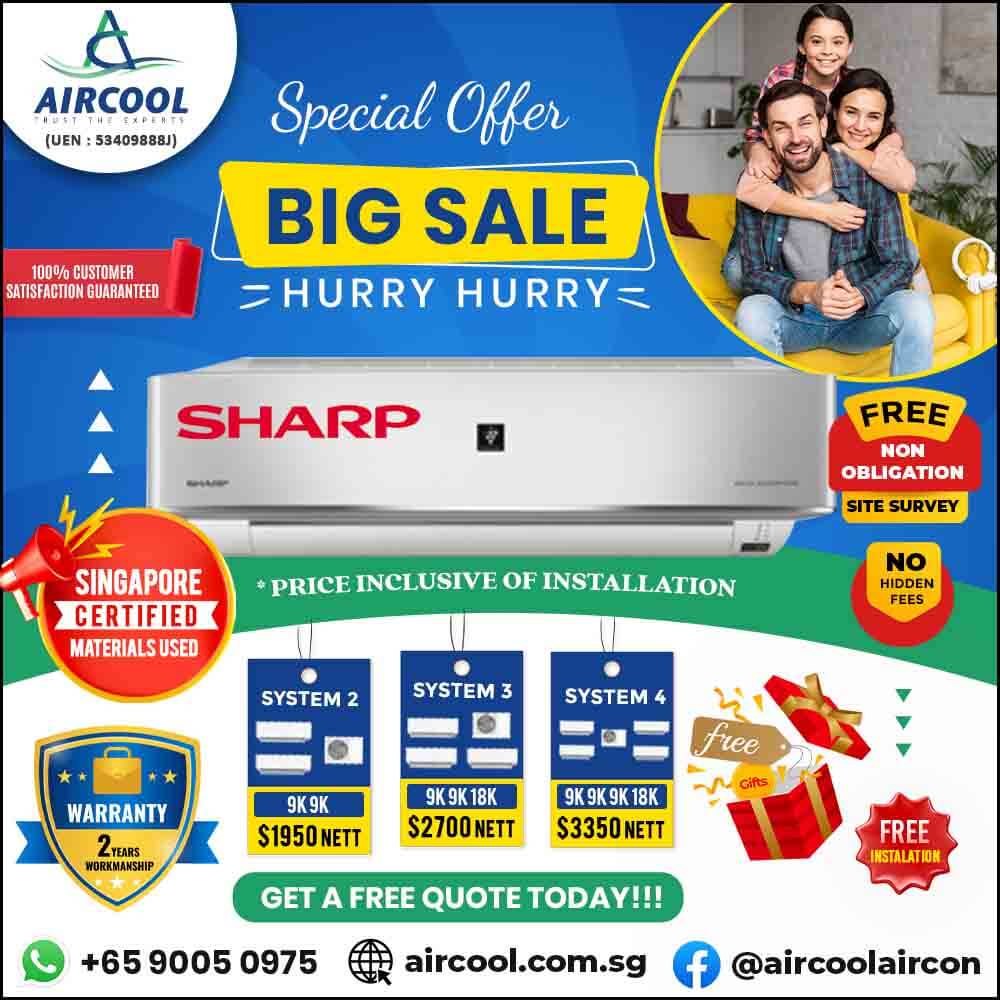 Aircon installation
With a Free Site survey
Hello, we are offering FREE Non-Obligated site surveys for our customers. we have all major brands such as Daikin, Mitsubishi Electric, Panasonic, Midea, LG, Hitachi, York, and Sharp. we are using only standard materials at the aircon installation. We provide aircon installation for all kinds of residential HDB/ BTO Flat, Condo, Landed, and Commerical places too.
SHARP Aircon Service
We are the Expert in : SHARP Aircon Service .
Aircool Provides all kind of service's for various types of air conditioner's like Multi Split aircon, Centrlized aircon, VRV aircon,etc..
We provide all aircon service's with wormanship warranty (30 Days min) *conditions apply