Aircool is one of the trusted aircon service company in Singapore for more than 10 years. 5000+ valuable customers. We do the ac services for homes, offices, schools, colleges, HDB Flats in Singapore for flexible pricing. Our customer satisfaction is our main motto, we really value our customers. 
Our technicians have 5+ Years of experience in the aircon industry so they can easily install the air conditioner and also can easily solve all complicated aircon problems. We provide a Minimum 30 days workmanship warranty for all kinds of ac services that we offer. There will be no hidden cost.
We offer aircon service and installation in all areas in Singapore like Hougang, Pasir Ris, Jurong West, Bukit Batok, Bedok, Ang Mo Kio, Yishun, Toa Payoh  Woodlands, Sengkang, and Tampines, etc. We do aircon service and installations by following all government rules and regulations.
Our customer review
Am very happy with the servicing. I called them on Saturday and yesterday they came on time, finished their service fast and efficient.
i will definitely engage Aircool again. Very professional and experienced. Breakdown of the cost was explained clearly before conducting the cleaning
First time using their services, it was very last min when my aircon was leaking the night before and they quickly book an appointment and sort out the problem, Thanks for Aircool.
Aircool has been our company's constant partner in maintaining our entire AC system. They have a dedicated team assigned to us, which we truly appreciate. Highly recommended.
The technician- "Muvie" was professional and punctual. After service, they promptly helped to clean up the mess. The service was good.
The team assigned was incredibly friendly and punctual. They also managed to render good service and resolved my problems without extra charges. Thanks, Aircool.

Aircon Service Price Details
Aircool offers all types of aircon services at an affordable price with a workmanship warranty for HDB Flats, Condo, Residentials.
our technicians all are experienced in air conditioner service they rectify all your aircon problems 100% successful. Trusted aircon service company.
COMPRESSOR REPAIR
Aircool provides a reliable compressor repair service for your aircon and rectifies the problem quickly with their Technical Experts. Aircon Compressor is a vital part to run properly.

Water leakage
Aircon water leakage problem is one of the common problems that will occur in most air conditioners. Our expert will help you out to overcome this problem with our proper service and guidance.

Noisy problem
Your fan coil blower might be dusty and air filter holes were not properly cleaned. so your air conditioner produces the noise. so you should properly maintain it with experienced technicians

COOLING REPAIR
Some of the aircon might have a cooling problem so following proper gas topup maintenance and cleaning the air filter will solve the cooling problem. Aircool will help customers with high-quality repair.

GAS LEAKAGE/REFILL
Gas leakage is one of the major issues in aircon, So to prevent this problem we should properly maintain the gas level. When the gas is low the cooling time will increase.

Error code problem
Some of the error code issues which show in your air conditioners. Like: sensor issue, board issue, automatic turn off, wings issue, etc. These issues will be easily sorted out by our experts.

Still undecided with any company for servicing?
We 100% guaranteed you we solve all your aircon repair and service problems

30 – 90 workmanship warranty available

Experienced Technicians will service your aircon

Reasonable cost

Quick customer response within 24 Hours

Quick and elegant appointment booking process

No Hidden costs.
We service all popular brands in Singapore and our technical Experts will guide you on what service your aircon needs to be done so you can easily know the condition of your air conditioner.
Aircon Installation
Aircool offers you the premium aircon installation service as per your wish with our experienced technical staff all over Singapore. Our technicians will take care of the full installation process so no flaws will not occur. With 10+ experience in aircon industry, we deliver only high quality aircon with a warranty for a flexible cost
Why to choose an aircool for aircon installation?

 – We are a certified and licensed aircon company.

 – Aircool have only experienced technicians

 – Supports popular aircon brands for an affordable price for the home and commercial purposes.

 – Aircool also offers a free site survey for our customers so we guide each and everything and let them pick the best aircon.

 – 5+ years compressor warranty, 1-year fan coil warranty, and 2 years workmanship.

– Quick appointment booking process.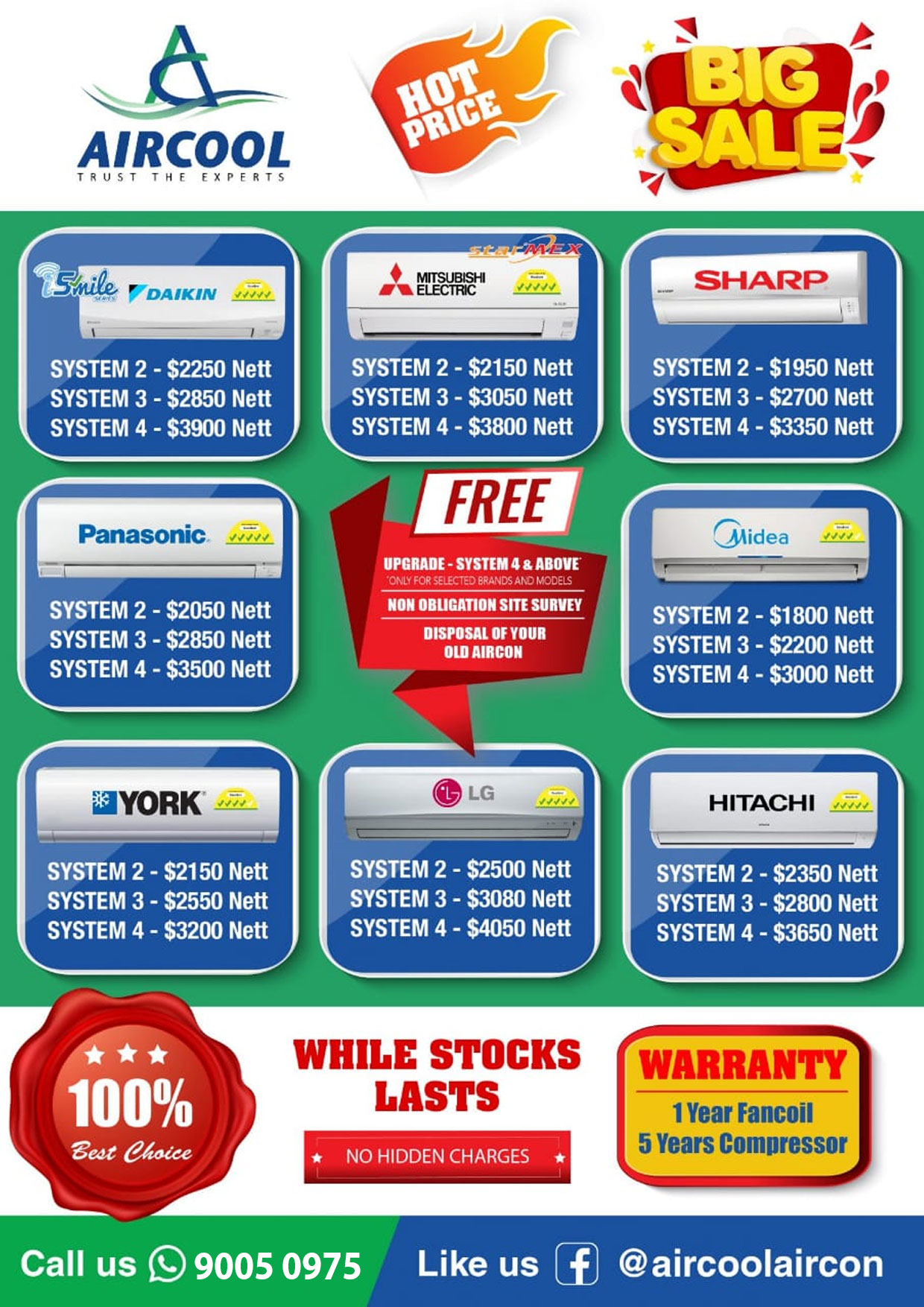 Support Brands