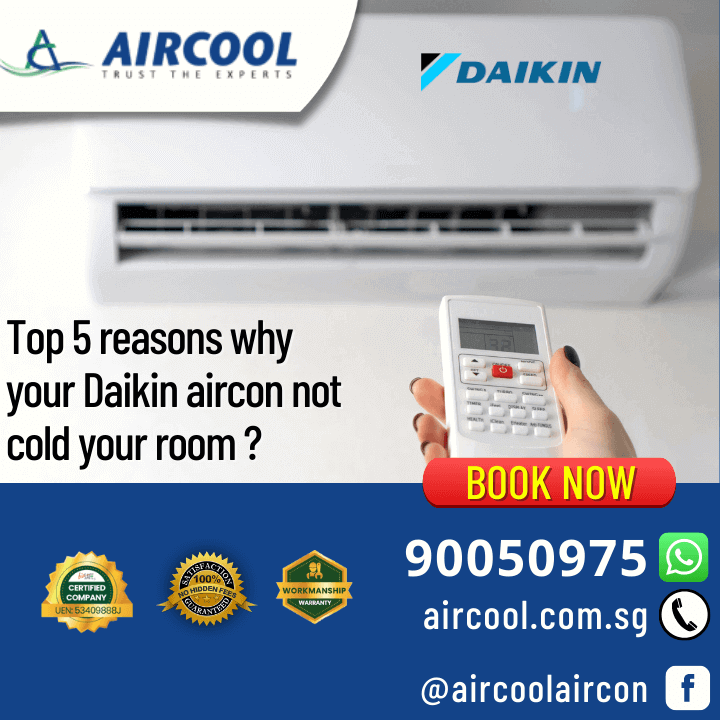 Have you ever gone through the problem of your Daikin Aircon unit blowing out hot air instead of cooling your room? This issue can get on our nerves, especially during the hot summer. There are 5 reasons why your Aircon system is not in its proper state. Read on to find out how to fix AC and the common reasons why your Daikin Aircon is not cold in your room.
Aircon servicing starts 25$ only
For More Details: Aircon Maintenance
Hurry Up To Book an Appointment Call or What's app: +65 90050975
1. Dirty air filter
the most common reason why your split and window Daikin Aircon is not cooling is because of unclean air filters. If the Aircon filter is unclean or clogged with dust and dirt, it might result in various problems. It must interfere with the proper working of the thermostat. Dirt in the Aircon filters blocks the passage of cool and warm air inside the ducts. It could also be made the evaporator coil freeze, thus blocking the passage of cool air from the outlet.
2. Incorrect thermostat settings
You need to check the working of the Aircon thermostat if your split Aircon is not cooling. It is a problem if your Aircon unit blows out cool air and then lukewarm air. When faced with this type of situation, turn the thermostat settings to auto mode. that way the fan works only when the air is being cooled.
3. Dirty outside unit
The reason why an unclean outside unit hampers the working of your Daikin Aircon, it is important you understand how Daikin Aircon works.
1. The evaporator (inside unit)-absorbs heat from the air around your place and transfers it to the outside AC unit.
2. Condense (outside unit)– then condenses convert the hot air into cool air. A clogged condenser will not allow the proper cooling of the Aircon system. Debris and dirt will block even heat transfer.
4. Low refrigerant level
A refrigerant is an important liquid that assimilates warms from the encompassing air, the nonattendance, or inadequacy of which may prompt your Daikin aircon isn't cool. If your AC system is not cooling, it might be because the refrigerant is getting leaked. Get your Aircon service done at regular intervals to ward off this problem.
5. Damaged compressor
A compressor is a vital component of an AC unit, as it manages the flow of refrigerant between the evaporator and condenser. Therefore, a damaged condenser could not cool air well enough.
Refer: Aircon Water Leaking – How To Fix?
Aircool Aircon service company is the best solution to choosing your aircon servicing. and We provide Aircon Installation, Commercial Aircon servicing

#airconnotcold #daikinairconnotcold