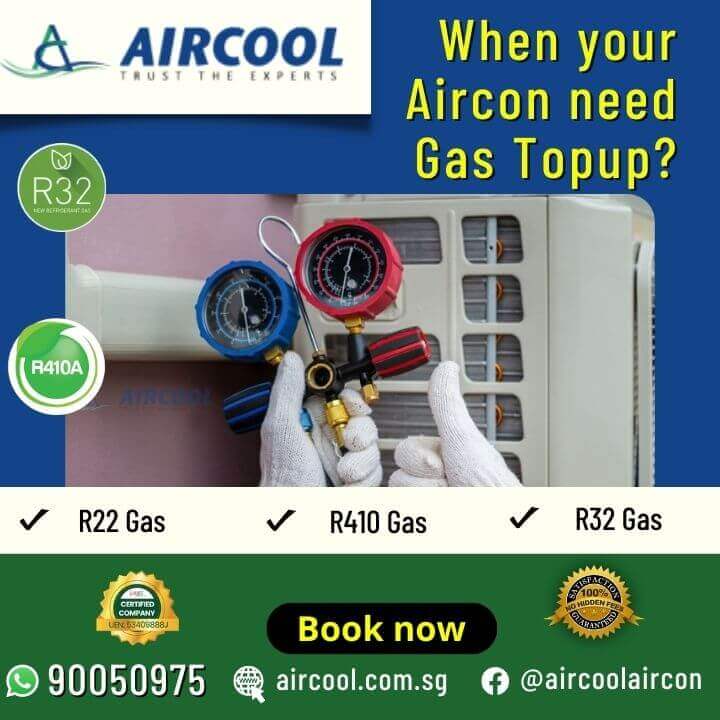 Usually, you could call for aircon servicing to top up your AC once every 1-3 years. there are customers who also chose to top up their aircon gas every 6 months. It could be due to minuscule leaks that are inevitable in every aircon system. However, do note that this is not necessary unless our aircon technician finds the refrigerant storage unit to be completely empty by the end of 6 months. AC technicians will check on the pressure. They may find that the pressure falls slightly after 6 months but this is completely normal.
When the aircon keeps on running but you still feeling warm
Out of sudden, you may find that the compressor keeps running to produce cold air, but the air being produced is still warm and the environments are not being chilled. Whenever there is insufficient or no gas in the Aircon, it will be running continuously and try its best to reach the desired temperature. Unfortunately, without sufficient refrigerant, it is kind of impossible for the aircon to reach the set point. In this case, a better option is to seek an aircon expert to come over to check the refrigerant gas and advise whether there is a leak or you just need an aircon gas top-up.
After aircon inspection
We recommend all aircon owners to inspect and have their aircon service 3-4 months a year to ensure you have a conducive and comfortable environment. During the inspection, an aircon gas top-up is needed when gas levels are found to drop by 10%. As mentioned earlier, a drop in gas level may lead to the compressor keep running and hence increase the amount of electricity consumed by around 20%.
After aircon repair
We always recommend our client engage the aircon service from a professional and experienced service provider. All kinds of aircon issues can lead to a decrease in gas levels. Experienced AC experts will be able to reduce the amount of gas lost during their checking. However, to ensure the best performance of your AC. An Aircon gas top-up is required after the aircon repair.
Aircool Aircon provides all brands Aircon servicing. then technicians are 5+ years Experienced. so feel free to contact our servicing company.

Book an Appointment Call or What's app: +65 90050975